Tick-borne illnesses are infections spread from tick to host. It is not only humans who need to worry about being bitten by these disease-ridden pests, they often attach to dogs. Don't fear, ohDEER is here to answer some of the most commonly asked questions about tick-borne illnesses in dogs and how you can prevent them.
What types of ticks can infect dogs?
Tick-borne disease occurs in dogs when a tick infected with a pathogen attaches to it, transmitting the pathogen into the dog's body. The ticks that carry illnesses and pose a threat to dogs include: 
American Dog Tick (Dermacentor variabilis)

Deer Tick / Black-legged Tick (Ixodes scapularis)

Brown Dog Tick (Rhipicephalus sanguineus)

Gulf Coast Tick (Amblyomma maculatum)

Lone Star Tick (Amblyomma americanum)

Rocky Mountain Wood Tick (Dermacentor andersoni)

Spinose Ear Tick (Otobius megnini)

Western Black-legged Tick (Ixodes pacificus)
What tick-borne illnesses can dogs get? 
Once a tick attaches itself to a dog, it takes only a day or two for it to transmit the bacteria that causes disease. This is why prompt removal of ticks is so important. Risk of disease transmission from ticks to dogs is highest during the fall. This is when ticks are in the nymph and adult phases of their lives, actively seeking hosts for blood meals. The tick-borne diseases that dogs can get include: 
Lyme Disease

Ehrlichiosis

Anaplasmosis

Rocky Mountain Spotted Fever

Babesiosis

Bartonellosis

Hepatozoonosis
What are the symptoms of tick-borne illnesses in dogs?
People often wonder how they will know if their dog has been bitten by a tick and infected with an illness. Talk with your veterinarian about annual testing for tick-borne diseases. This testing helps catch infection in its early stages so your dog can get prompt treatment. These are the symptoms of different tick-borne illnesses in dogs: 
Lyme Disease

Lameness in limbs 

Painful, swollen joints

Fever

Swollen lymph nodes

Loss of appetite

Lethargy

Kidney failure

Bruising or unexplained bleeding

Ehrlichiosis

Fever

Poor appetite

Nose bleeding, bruising, anemia

Anaplasmosis: infects dogs platelets 

Bruising on the gums and belly

Spontaneous nosebleeds

Rocky Mountain Spotted Fever

Fever

Poor appetite

Swollen lymph nodes

Joint pain. 

Wobbliness

Babesiosis: infects dogs red blood cells

Lack of activity/lethargy

Generalized weakness

Vomiting

Loss of appetite

Weight loss

Bartonellosis

Fever

Swollen lymph nodes

Sore muscles, difficulty getting up, reluctance to run or jump

Nose irritation (discharge, nosebleeds)

Vomiting or diarrhea

Coughing, difficulty breathing, fainting

Hepatozoonosis: infects white blood cells or muscle cells 

Loss of appetite

Weight loss

Lethargy

Fever/depression

Generalized pain, unable to move 

Loss of muscle mass with chronic weight loss

Discharge from the eyes
How do I check my dog for ticks?
Please see the diagram below for the most important spots to check your dog for ticks. Ticks like to hide in warm areas around the upper legs and head. If your pet has a lot of fur, it will take you more time to do a thorough check. You should also look for ticks when brushing and grooming your dog regularly.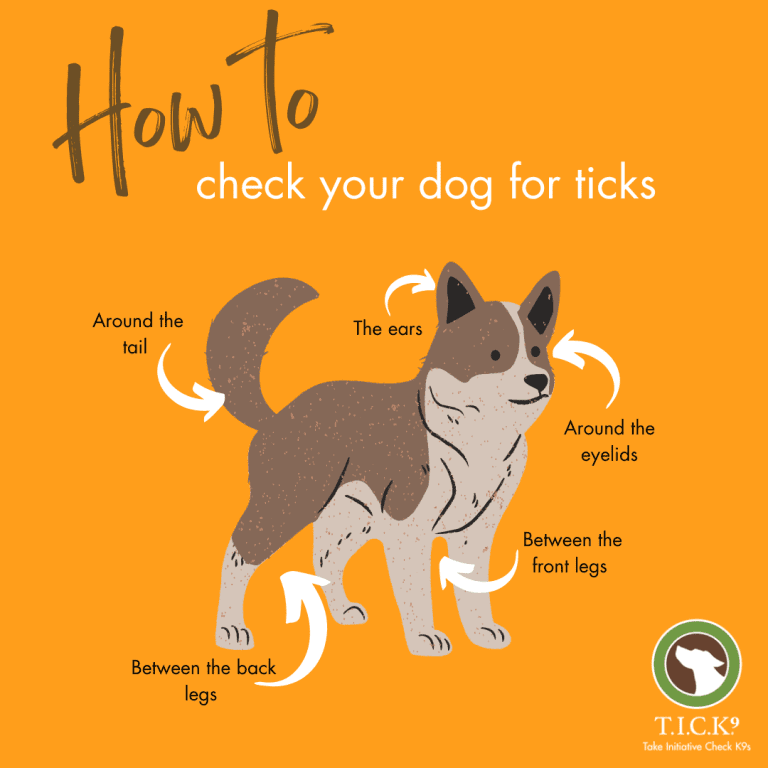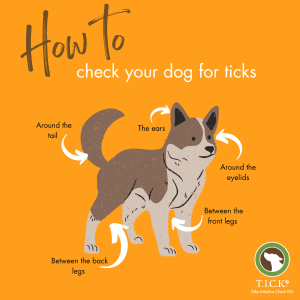 What do I do if I find a tick on my dog? 
If you find a tick attached to your dog, do not panic, but remove it immediately. The longer a tick is attached, the more likely it is to infect your dog. 
How do you remove a tick from a dog? 
If there is a tick attached to your dog, you should remove it immediately using a tick-removing tool or fine-tipped tweezers. Using one of these will help avoid tearing the tick's body and spreading infection around. First, spread your dog's fur and grab the tick with your tool of choice as close to the skin as possible. Gently pull upwards in a slow and steady motion. Once the tick is removed, you can either send it in for testing or flush it down the toilet. Treat the area on your dog's body where it was bitten by the tick with rubbing alcohol and antiseptic cream. 
How can I prevent my dog from getting a tick bite? 
The first step to tick-prevention as a dog owner is educating yourself on the ticks and tick-borne diseases that are most common in the area you live. Then, talk with your veterinarian about the tick prevention medications or collars they recommend. If your dog spends any time outdoors, you should check them for ticks on a daily basis. Remember, they can't check themselves! 
Remember that dogs can bring infected ticks into the household, spreading infection to other family members or pets. It is crucial to take steps to prevent your dog from being bitten by ticks to ensure the safety of your whole family, four-legged members and all!
Sources: