A new foe has arrived on the pest control scene. The Asian long-horned tick is the first new tick species to arrive in the United States in almost 50 years! A key element in the success of the approach of ohDEER to controlling deer, mosquitoes, and ticks is that we adjust and adapt our solutions and applications and methods to changes in the environment, and changes in the populations and movement and behavior of those creatures we are up against.
It was originally thought that the first long-horned tick in America had been found last November on a farm in Hunterdon County, NJ, but a subsequent report from the U.S. Department of Agriculture's National Veterinary Services Laboratory confirmed that a long-horned tick had been removed from a dog in Union County, New Jersey, in 2013.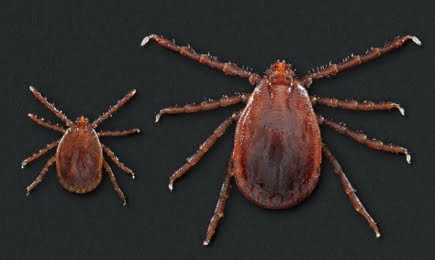 Long-horned ticks are spreading along the Eastern Seaboard, and have been identified in eight states. For now, public health experts and officials are concerned, yet not overly alarmed, with the arrival of the long-horned tick. Unlike the ticks that ohDEER is routinely up against, studies of long-horned ticks in the U.S. have not discovered in the species any diseases harmful to humans.
Long-horned ticks are, though, an immediate threat to livestock.  Following is an excerpt from a USA Today story, "Health officials sound alarm as invasive tick, new to US, spreads," written by Jim Hook, Scott Fallon, Nick Muscavage and Joseph Spector, published August 7.
 "The long-horned tick can transmit an animal disease called theileriosis to livestock. The disease can reduce milk production in dairy cows and cause blood loss in and the occasional death of calves. Sheep farmers can see poorer wool."
Please click here to be taken to the full USA Today story.
For more updated information about Asian Longhorn ticks, becoming familiar with their appearance, and tips to avoid them, check out CDC
Give us a call at ohDEER to schedule a spraying of our ALL NATURAL Tick & Mosquito repellant that is safe for kids, pets and your yard…our goal is for you to be able to enjoy more time outside!